Life Upgrade
Life Upgrade's unique energy transmission supports the process of both personal and planetary awakening. Attune to the New Frequency and get the upgrades, activations and insights you require to make the shift.
Read more
Use your intuition to navigate around this website and be guided as to which transmission/broadcasts to listen to and which exciting events to attend.
Follow your heart's calling, and find yourself receiving exactly what you need, when you need it!
Join us for the magical event of the year!
8 days of total immersion into your magical nature.
Be guided through powerful sacred ceremonies, including Glastonbury Tor new moon ceremony, Earth Grid activation, Fire ceremony, plus so much more...
19th May 2020
Read more / Book your place
29th March 2020
Our human experience is not to suffer, it is to see where suffering is and to allow grace to flow into that place. Our journey should not be one of fear, our opportunity is to see fear in ourselves and others and to allow grace to flood in and dissolve that fear.
Grace is the power we need right now, it is the greatest power we have.
More Life Upgrade Broadcasts
5 minutes per day (over 21 days) to super charge your life!
Unique transmissions, connecting you ever more deeply with the powerful energies of this transformative time.
Feel inspired, uplifted and deeply nourished each day.
More Daily Wake-Up Calls
You are invited to take a transformational journey into the heart of who you really are. Discovering your true authentic nature is the very key to manifesting the life of your dreams. Once in alignment with your true essence, all things become possible.
The Who Are You? Home study course will help you identify and change restricting patterns, attitudes and behaviours which currently hold you back in life.
More Products & Home Study Courses
This audio collection and its supporting booklet have been designed to gently guide you into deep relaxation, both as support throughout pregnancy and as birth preparation.
Our free gift to you.
More Products & Home Study Courses
We are so excited to be able to share with you our magical 8 day ceremonial event in May 2020, and to offer you a very special Super-Early bird discount! This festival of Awakening is one not to be missed! … Continue reading
Life Upgrade TV
Tea with Tracy - Star Children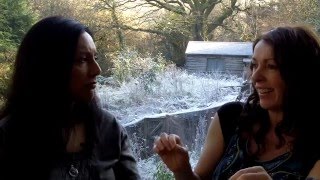 Recent Blog Articles